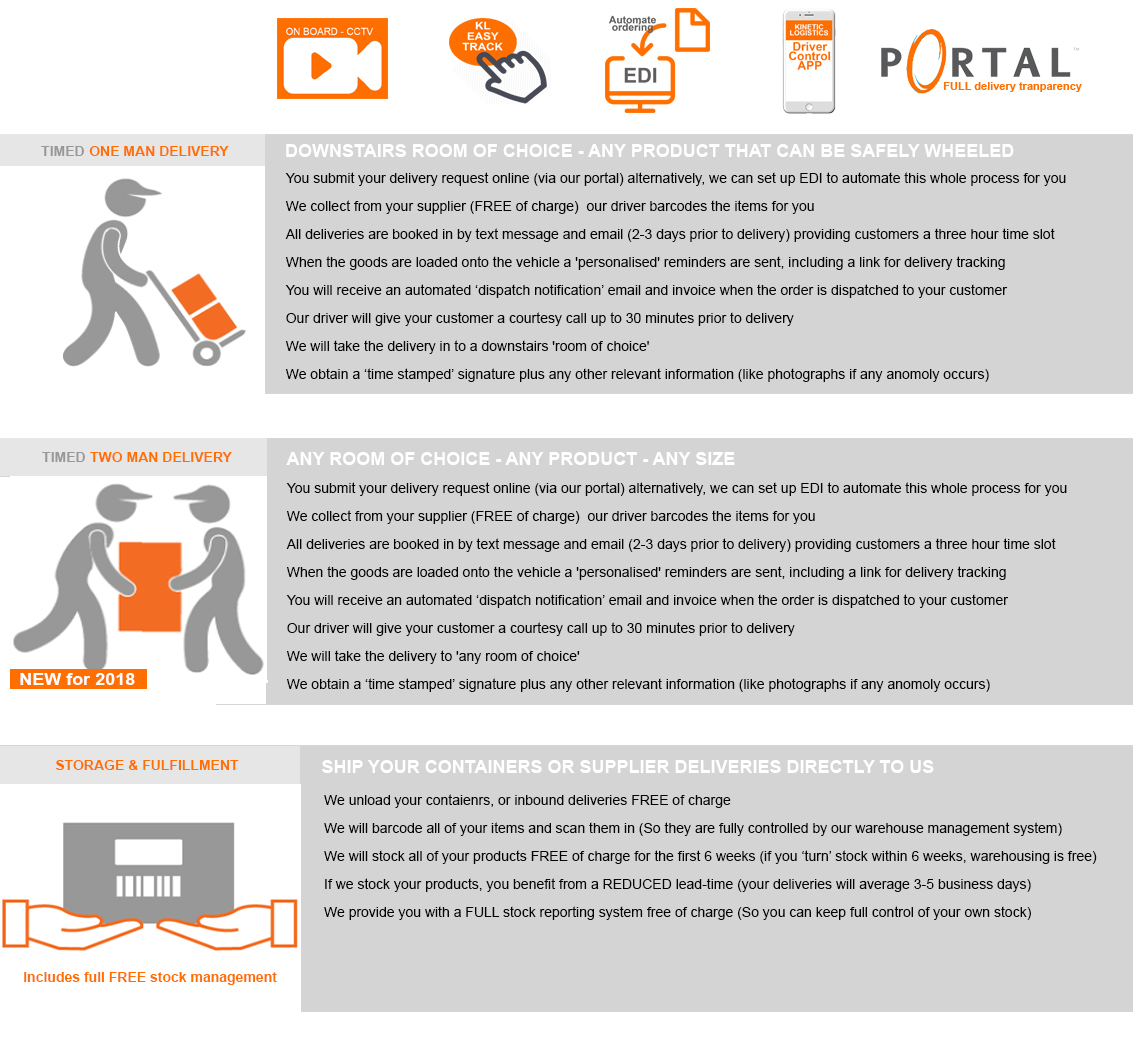 If at any point you wish to get an update on the order you placed with us you can log into your account on Kinetic Logistics website to check on the order status.
Please take a look at our pricing structure.
Kinetic Logistics is a courier specialising in deliveries and drop shipping of furniture, electricals and other fragile goods.
The way we operate is very simple:
You submit your delivery request online (via our portal) providing us with delivery and collection address and the dimensions/weight of the parcels you wish us to deliver on your behalf (alternatively, we can set up EDI to automate this whole process for you)
We collect from your supplier (FREE of charge) and our driver will label and barcode the items for you (Although we prefer items to be labelled prior to collection).
All deliveries are booked in with your customers by text message and email (2-3 days prior to delivery) providing them with a three hour time slot
When the goods are loaded onto the vehicle a 'personalised' text message is sent to your customer reminding them about the delivery date/time and providing them with a link for tracking their delivery, giving your customers peace of mind and an assurance that the goods are in transit to their final destination
You will receive an automated 'dispatch notification' email and invoice when the order is dispatched to your customer
Our driver will give your customer a courtesy call up to 30 minutes prior to delivery
We will take the delivery in to a downstairs 'room of choice' via our 'one man' service or 'ANY room of choice' via our 'two man' service
We obtain and store the recipients name, signature, time of delivery, plus any other relevant information (like photographs if any anomoly occurs) for every delivery completed
Moreover, we operate modern liveried vehicles and all our staff are smartly uniformed and fully trained and knowledgeable about safe loading, handling and delivery of furniture and fragile goods.
All of our deliveries are recorded by CCTV from the moment they are picked up until the moment they are delivered to the customer (via three CCTV cameras in each van, plus comprehensive warehouse CCTV coverage), so if you ever have any queries on the way your products are handled, we are happy to provide you with video footage of your item(s) passing passing through our distribution centre, illustrating that Kinetic Logistics are the most careful delivery service available.